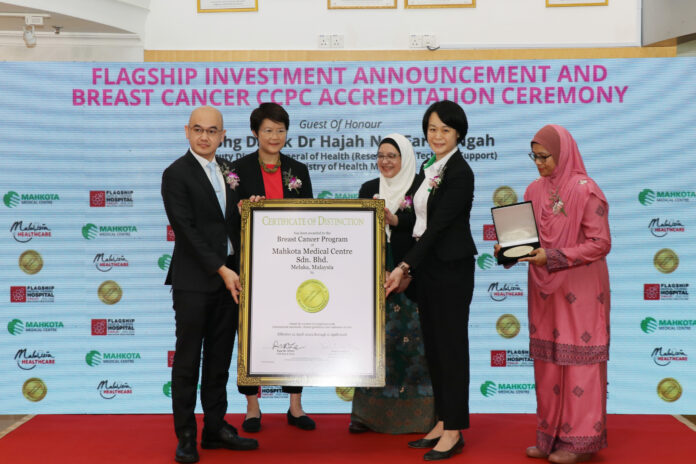 Accreditation Affirms Mahkota's RM 250 Million Investment In Healthcare
Melaka, 2 November 2023 – Chin Wei Jia, Group Chief Executive Officer of HMI Group, the parent company of Mahkota Medical Centre, said, "We are investing RM250 million in new and innovative approaches for delivering world-class healthcare services through the strategic development of Centres of Excellence (CoEs), specialising in critical fields such as cancer. The CCPC accreditation, combined with our status as a shortlisted finalist in the Flagship programme, marks a proud moment for Mahkota and the Group serving as a strong testament to our commitment towards medical excellence. 
"As we join the esteemed ranks of shortlisted finalists, we are confident in our capacity to play a pivotal role in propelling Mahkota toward realising Malaysia's healthcare and medical tourism aspirations," added Chin.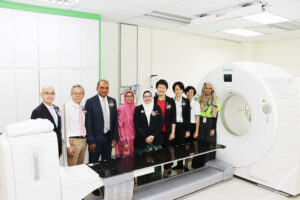 The Flagship Medical Tourism Hospital Programme is the first-of-its-kind initiative, spearheaded by the Malaysia Healthcare Travel Council (MHTC) aimed to raise globally renowned icons for healthcare travel, elevating Malaysia's global healthcare profile in delivering exceptional patient experiences. Shortlisted finalists are expected to provide top-notch healthcare services, maintain high standards of patient care, and adhere to international standards, contributing to the nation's medical tourism industry and global recognition.
As such, the Flagship programme sets clear targets for the finalists, which include the finalists' commitment into healthcare investment in areas such as facilities expansion and infrastructure upgrade, healthcare digitalisation, sustainability, healthcare equipment enhancement, and more.
The CCPC accreditation was officiated during the official visit by the Ministry of Health represented by YB Datuk Dr. Nor Fariza Ngah, Deputy Director General (Research & Technical Support), Ministry of Health, who commended Mahkota for making progress toward achieving the goals outlined in the area of medical excellence, which is one of the Flagship programme's three (3) key pillars; Medical Excellence, Service Excellence, and International Branding.
"I trust that the Breast Cancer CCPC accreditation achieved by Mahkota Medical Centre will bring us closer to achieving a more resilient healthcare system for the country, especially in the area of oncology, and establish Malaysia as a credible global healthcare brand. This accreditation serves as a testament to Malaysia's commitment to raising the bar of excellence in delivering exceptional end-to-end services to local and international patients, in line with the aspirations of the Health White Paper, to further strengthen our healthcare system and future-proofing it against challenges ahead," said Datuk Dr. Nor Fariza.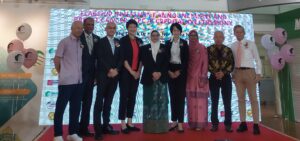 Teo Chin Yee, Deputy Chief Executive Officer of Mahkota Medical Centre, said that the Breast Cancer CCPC Accreditation earned by Mahkota reinforces its position as a reputable referral hospital in the region. "We are well on track to surpass our pre-pandemic record by 2024, having served nearly 100,000 foreign patients in 2019." 
Teo further emphasised Mahkota's patient-centered approach to cancer care, stating, "Our focus is on ensuring better patient outcomes, and we approach this through crafting individualised care plans. This involves a collaborative team of caregivers who cater to each patient's specific needs and goals, providing readily accessible resources and support for a seamless cancer journey."
A distinctive feature of Mahkota's cancer care is the emphasis on interdisciplinary patient-centred care. A multidisciplinary team, including oncologists, surgeons, radiologists, pathologists, nurses, and healthcare experts, collaboratively provide evidence-based and personalised care. "We work seamlessly across disciplines to ensure our patients receive the most comprehensive care possible," highlighted Teo.
Another hallmark of Mahkota's cancer care is the innovative "cancer navigation journey" programme, seamlessly integrating the invaluable role of the Nurse Navigator. This dedicated professional supports and empowers patients throughout their treatment journey, aiding them in understanding options and accessing necessary resources. 
Mahkota is committed to addressing cancer care gaps within the communities it serves. The hospital's preventive care programme for individuals with a family history of cancer is an ongoing effort that helps people reduce their risk of developing cancer. It provides education, support, and resources to help people make healthy lifestyle changes and get regular health screenings.
The CCPC accreditation was presented by Nick Liew, JCI's International Manager for the Asia Pacific region, and received by Teo and Dr. Hayani Abdul Wahid, Clinical Oncologist & CCPC Programme Lead on behalf of Mahkota.