Zhongshan, Guangdong Province, China, 9 November 2023 – The International Alliance of Young Entrepreneur Associations (IAYEA) held its first plenary session from September 24 to 26 in Zhongshan, Guangdong Province, setting a momentous milestone for global young entrepreneurship around the world to come together bringing possibilities for global economic recovery and trade collaborative innovation in this meeting. With participation from founding members, prospective members, young entrepreneurs, and observers' representatives from 29 countries and regions, this historic event showcased the immense potential for international collaboration in the entrepreneurial landscape. 
IAYEA, a beacon for young entrepreneurs worldwide, was founded with a vision of promoting global networking and knowledge exchange to empower and inspire young business leaders. The choice of Zhongshan as the host city underscores the city's dynamic and innovative spirit, serving as a living testament to the power of entrepreneurship in transforming economies.
Notably, the plenary session marked a significant moment as it elected its first presidency. Deborah Melissa Bottreau from Malaysia, a prominent young entrepreneur, and Secretary General of the ASEAN Young Entrepreneurs Council, was appointed as the first IAYEA President. During an interview in Zhongshan, she emphasized the vision of fostering synergistic collaboration among countries and regions within IAYEA to enhance their economies and empower young entrepreneurs.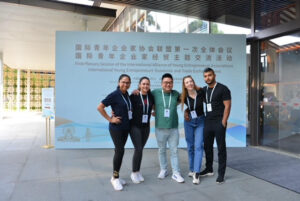 Key Highlights of the Plenary Session:
Diverse Participation: The event saw an impressive turnout with representation from 29 countries including Malaysia and regions, fostering a rich tapestry of ideas and experiences.
Strategic Discussions: Strategic discussions and workshops delved into critical aspects of entrepreneurship, global economic recovery, providing actionable insights and strategies for budding and established young entrepreneurs alike.
Global Networking: Entrepreneurs embraced the opportunity to forge global connections, setting the stage for future collaborations and partnerships.
Empowering Youth: IAYEA remains steadfast in its mission to empower young entrepreneurs, as inspiring talks and panel discussions laid out a roadmap for success.
Cultural Exchange: The plenary session also celebrated cultural diversity, promoting understanding and appreciation among participants.
Vision for the Future: The plenary session concluded with a shared vision for the future of IAYEA, poised to shape the global entrepreneurial landscape for young individuals.
This historic gathering has set the stage for IAYEA to become a pivotal player in the global entrepreneurship ecosystem, empowering young entrepreneurs and fostering positive change on a global scale.
IAYEA's mission is clear: to inspire and empower the next generation of business leaders, bridging cultural boundaries, and fostering innovation worldwide. With the success of the first plenary session in Zhongshan, the future of IAYEA and global entrepreneurship has never looked more promising.