Seremban, 10 November 2023 – The ACE Malaysia Squash Cup 2023 witnessed an Egyptian domination as Karim Abdel Gawad and Nour El Tayeb emerged victorious in the men's and women's finals, respectively at the Dato Said Sports Complex in Seremban Two.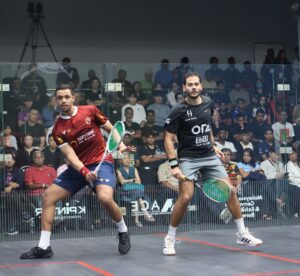 32-year-old Gawad claimed the title in straight games 11-8, 12-10, 11-5 against the tournament's top seed, Mostafa Asal. Asal, fresh off a 12-week PSA ban, put up a commendable fight yet, it was Gawad's skill and determination that secured his championship.
"I feel very happy, I am playing my best squash now. I was playing my best squash in 2016 when I won the World Championship, and now I am looking forward to my own goals and hopefully one day I achieve them again," expressed a jubilant Gawad.
Gawad, marking his third PSA title of the year, expressed his fondness for playing in Malaysia. "I enjoyed myself playing in Malaysia, people are warm and I hope to come back and play bigger tournaments here," he remarked. 
He won the Optasia Championships in March and the Grasshopper Cup in October after being out of action for almost a year following an injury. He will next play the Hong Kong Open November 27. 
Asal, content with keeping his momentum going, acknowledged Gawad's prowess and their competitive match. "Karim (Gawad) was very tough, the first two games were crucial but I have to hand it to him, he is an amazing player and I am happy to be playing with him at this level," he said after the games.
On the women's front, top-seeded El Tayeb showcased her dominance, triumphing 11-2, 11-4, 11-4 in under 20 minutes against a resilient yet injured Rachel Arnold, the home favourite.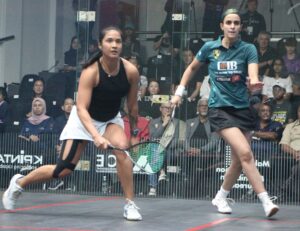 El Tayeb's win not only secured her first Malaysian title but also marked an impressive 15th career triumph. "I could see that she was injured going in, she had a long week with a lot of tough matches so I knew I had to come in tough at the beginning. I can see that she was not moving well so I just kept my focus," remarked El Tayeb.
Rachel acknowledged the challenge due to her injury, marking this final as a significant milestone in her career, her first bronze-level PSA Tour final.  
"I thought I was going to be OK but once I started the game then I struggled and I couldn't really play the best squash as I wanted to tonight but I have been pretty happy with how I have been playing this week," said the sole Malaysian finalist.
The ACE Malaysia Squash Cup drew players from over 20 nations, underscoring a significant milestone for Malaysian squash, with an eye on nurturing talent for potential success at the LA 2028 Olympics, where squash has been included in the Road to Gold program.
Organised by ACE Sports & Management, the event united over 250 junior players, benefiting from squash clinics provided by esteemed partners Faragallah Squash and Fitness Academy (FSA) from Cairo, Egypt, and Persatuan Squash Negeri Sembilan.
The state ruler and avid squash enthusiast, Yang di-Pertuan Besar Negeri Sembilan Tuanku Muhriz ibni Almarhum Tuanku Munawir, graced today's matches, presenting the trophies to the men's finalists.
ACE Sports & Management Promoter, Jadish Kumar, described the ACE Malaysia Squash Cup 2023 as a culmination of passion and purpose for the sport in the nation. He added, "The event celebrated sportsmanship among some of the world's greatest players, and we were thrilled to witness an enthusiastic turnout of our own players supporting our national squash stars."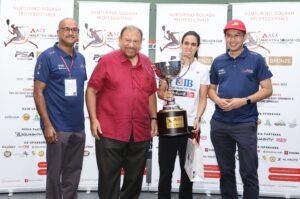 Jadish also emphasised that the tournament provided players with a taste of Malaysian hospitality and showcased the popularity of squash in the country.
The tournament, a PSA World Tour Series at Bronze Level with a prize purse of USD 51,500 each for both men and women's categories, served as a successful inaugural event for Malaysian independent organisers ACE Sport Management underpinning the company's commitment to fortifying the sport and their aspirations to become a premier tournament organiser in Asia.