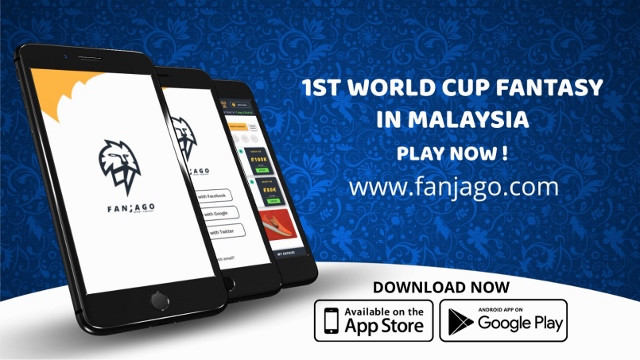 Kuala Lumpur,  3rd July 2018 – If you are a 'kaki bola' then don't miss the
chance to build your World Cup dream team by playing Malaysia's World Cup
Fantasy Football web app by FanJago.
From selecting their favorite players from the World Cup teams to scoring and
evaluating the players' performances, users will have a chance to experience
first hand on how to coach world class players and ultimately stand a chance
to win real prizes every day, worth up to RM10,000. Users will have a chance
to walk away the Grand Prize – a Playstation 4 with custom World Cup kit.
"The World Cup is the biggest sporting event in the world and what other way
to join in the thrilling experience of it by playing fantasy football with your
friends and other football fans. In FanJago, we have created an addictive and
unique way to play fantasy sports and we are proud to launch Malaysia's very
own World Cup fantasy football web app," enthused FanJago Co-Founder &
COO, Ahmad Khamil Junid.
Upon signing up, each player will be rewarded with 200,000 virtual coins as
they start drafting their preferred players for World Cup 2018. The goal is to
form a fantasy team before match starts and compete against the other
competitors in the World Cup. All competitors are given a budget of 100
million and with that a player bids on players they set on their team. Points are
based on statistics each player accumulates throughout the live match game
and all points are added together for a total score.
"Various statistics are tracked throughout the game including goals, assists,
shots, crosses, red and yellow cards, fouls, saves, penalty kick saves, goals
allowed and more. Whichever participant drafts the 11 players that
accumulate the most statistical points will win the match for that day and can
instantly collect their payout through prize redemption," said Khamil.
In addition to that, FanJago's Fantasy Football app provides an opportunity for
users to create their own contests and invite friends to compete either on a
per match basis, weekly football matches and cup matches. Users can also
determine the period of the contests – be it for a few days, weeks or even on
a specific timeframe.
"Striving to provide users with the best fantasy football
experience, FanJago will be introducing more exciting features, in order to
enhance the user experience. Furthermore, we will be launching the mobile
version by end of this year – for both Android and iOS."
Users can also redeem digital vouchers by collecting virtual points and
earning diamonds as they become one of the Top 5 players in each contest.
The redeemed digital vouchers can be used when shopping online with
Lazada, Shopee, as well as purchasing movie tickets from TGV.
Let the battle commence and log in to www.fanjago.com to check out the
fantasy football game.