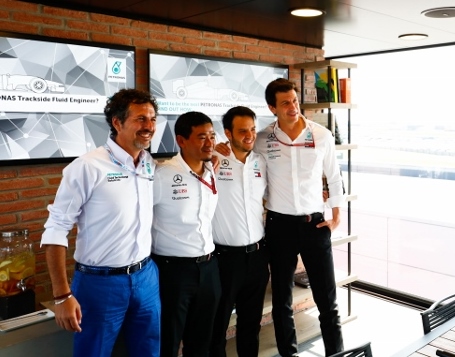 Silverstone, 7 July 2018 – PETRONAS, through its wholly-owned subsidiary, PETRONAS
Lubricants International (PLI) today announced a global search for a Trackside Fluid Engineer to provide onsite technical support on the performance of PETRONAS Fluid Technology SolutionsTM for four-time FIA Formula OneTM World Champions, Mercedes-AMG PETRONAS Motorsport.
For the first time, PLI is giving qualified, passionate, driven and responsive individuals around the world a chance to be among the technical specialists who make up the Mercedes-AMG PETRONAS Motorsport trackside support team.
"We are very pleased to announce the first global search for a new PETRONAS Trackside Fluid Engineer to join us and be mentored by the incumbent engineers to ultimately lead our trackside service activities for Formula One," said PLI Group Chief Executive Officer, Giuseppe D'Arrigo.
PLI relies on the collective knowledge of its technology team, including the crew serving the trackside needs of Mercedes-AMG PETRONAS Motorsport, and Formula One is a key element in developing and proving product concepts to pave the way for future fluid technologies.
"It is a rare and exciting opportunity to be part of the team that works on the sharp end of fluid technology development for the fastest and most powerful drivetrains in the world. Some might even consider it the coolest job in the world," he said.
PETRONAS has deployed engineers who have travelled with the team since the start of the
partnership with Mercedes F1 in 2010. The engineers operate in a compact lab for fluid-related service activities at Formula One tests and race events around the globe and provide real-time analysis on PETRONAS Fluid Technology SolutionsTM, a customised suite of products and services which includes PETRONAS Primax Fuel, PETRONAS Syntium Lubricant and PETRONAS Tutela Functional Fluids for the Mercedes works team and Mercedes-AMG High Performance Powertrains (HPP) customer teams as well.
"PETRONAS has been integral to the team's success and our partnership played a fundamental role in the four consecutive world championship titles we have won together so far," added Toto Wolff,
Team Principal and CEO, Mercedes-AMG PETRONAS Motorsport.
"Their technical expertise when it comes to modern Formula One power units has been of great value to the team, and we have enjoyed a competitive edge from their fuels and lubricants. Having experts in fluid engineering as part of the team in a dedicated trackside fuel lab has given us an advantage, as it means that we can run many of the tests required at the track. We know that our Open employees are the key to our success and are very excited about PLI's initiative to scout and nurture new talent to support us trackside."
The search for the next Trackside Fluid Engineer is open until 7 October 2018.