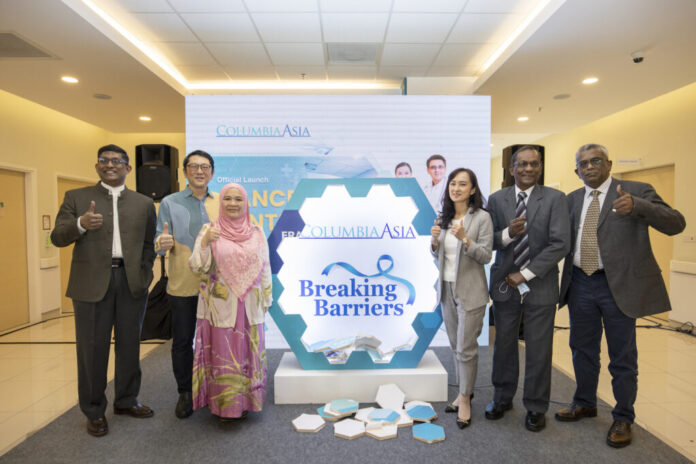 Shah Alam, 5 October 2022 – The Columbia Asia Group of Hospitals launches their first cancer center in Bukit Rimau. With the opening of their new center, they also unveiled the Breaking Barriers initiative, a holistic approach to cancer care that addresses three major gaps relating to this disease: cancer prevention, cancer patient navigation, and support for those living with cancer.
"Cancer care requires a holistic and multidisciplinary approach. It is our hope that our new cancer center will make high-quality integrative cancer care more accessible," said Dr. Chan Boon Kheng, Managing Director & Group CEO of Columbia Asia.
"Cancer affects every part of your life: physically, mentally, and emotionally. We understand that cancer treatment needs to be more than just medical. By employing an integrative approach, we can offer our patients personalized treatment plans that combine clinical innovation and patient-centered care."
The cancer center offers cancer screening & diagnostics, individualized treatment options, post-treatment care, a cancer rehabilitation program, palliative care, dietary consultation, multi-disciplinary specialty care, pain management, home care, patient group support, and clinical trials.
The center has been furnished with the equipment and a collaborative team of experts comprising consultants and oncologists who are supported by a radiotherapy team, a chemotherapy unit, a patient experience team, procedure specialists, oncology nurses, and a dietician.
"We want more Malaysians to understand that a cancer diagnosis is not a death sentence. Each day, there are many options for preventative care, curative treatment, and improved quality of life for cancer patients and their families," said Lee Hui Chuen, Regional General Manager of Columbia Asia hospitals at Bukit Rimau, Petaling Jaya, and Seremban. "We envision our new cancer center as the first step towards a shift in the way Malaysians think and talk about cancer. That is also why we are kicking off the Breaking Barriers initiative today."
The first project under Breaking Barriers is the #ClockOut2CheckUp campaign. Columbia Asia Hospital – Bukit Rimau chose to take the first steps themselves, with 275 employees taking up the opportunity to go for a free cancer marker screening in exchange for a day off work.
Now, the hospital is offering 1,000 screenings for Malaysian companies interested in joining the ClockOut2CheckUp Corporate Challenge. The hospital is also offering 200 cancer marker screenings to the public from October 1, 2022 onwards.
Additionally, the center offers special treatment packages to patients referred from government hospitals to relieve the government's long waiting list of cancer patients awaiting treatment and to expedite treatment for cancer patients.
For more news and information about Columbia Asia, visit  www.columbiaasia.com.