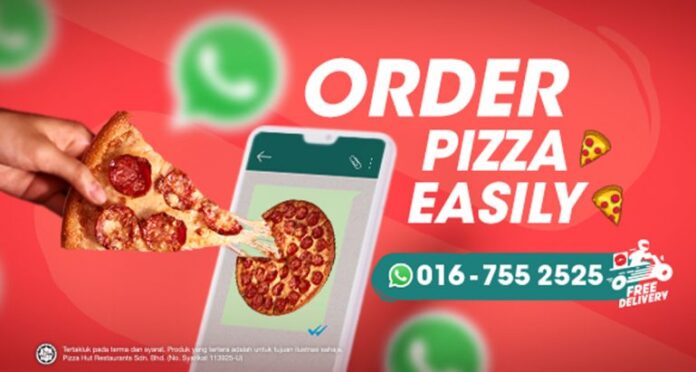 Kuala Lumpur, 8 September 2020 – Pizza Hut Malaysia has introduced its new mode of ordering through Whatsapp, called the Pizza Hut EasyOrder where customers simply have to save the Pizza Hut number on their phones and place the order to get their favourite pizzas.
Chief Marketing Officer of Pizza Hut Malaysia, Emily Chong said, Pizza Hut aims to provide absolute ease as well as convenience to customers and through their research, there are approximately 18 million WhatsApp users in Malaysia, which makes WhatsApp the top messaging system in the country. 
"Pizza Hut sees the importance in launching a Pizza delivery system for pick-up or delivery directly on WhatsAppand by opening virtual stores on WhatsApp, so many more Malaysians can order pizza easily and have it delivered directly to their doorstep and hassle-free," she said in a statement.
She added, customers can now use a messaging application that is very familiar to them and with WhatsApp's location detector feature turned on, clients can just tap on 'share location' when texting us their orders.
"Gone are the days where you have to login a username and type in your address, now customers can just WhatsApp their pizza orders at 016-7552525 and receive their favourite pizzas in a flash," she said.
For more information, visit www.pizzahut.com.my.
-BERNAMA