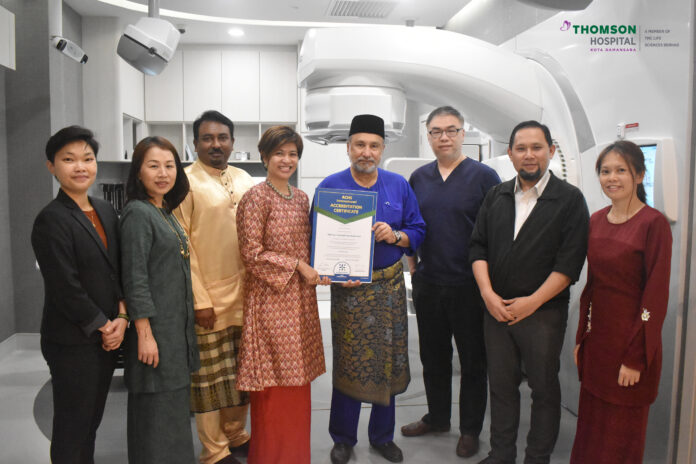 PETALING JAYA, 15 May 2023 – Thomson Hospital Kota Damansara (THKD) has become the first hospital in Malaysia to receive accreditation for its Core and Ambulatory – Cancer Services under the Evaluation & Quality Improvement Programme (EQuIP7) from the Australian Council on Healthcare Standards (ACHS) International.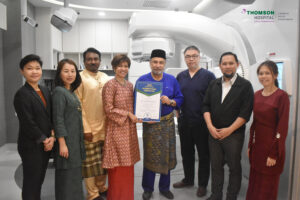 This accreditation involves an internationally recognised evaluation process to assess and improve the quality, efficiency and effectiveness of healthcare organisations. The whole evaluation process on the hospital's Oncology and Nuclear Medicine facility, its systems and processes were stringently managed by ACHS International's team of experienced healthcare professionals facilitated by its licensed partner, GlobalHealth Quality and Innovation Accreditation (GHQIA). With the successful completion of audits, THKD's cancer services proudly holds the EQuIP7 accreditation and ACHS membership for three years.
ACHS International is the third oldest accreditation body in the world and has been at the forefront of developing healthcare standards and assisting healthcare providers to implement safe and quality healthcare in Australia and overseas for nearly 50 years.
Nadiah Wan, Chief Executive Officer of Thomson Hospital Kota Damansara, expressed her delight in having achieved this milestone and was pleased with the team's dedication to providing quality, compassionate cancer services to patients and customers, adding that the accreditation is a testament to the hospital's commitment to continuous improvement and innovation. "I trust that being the first hospital in Malaysia to be conferred an accreditation for our Cancer Services will provide even greater peace of mind to our potential customers, patients, friends and family members when selecting a healthcare facility of choice for their treatment. We are committed to provide better service delivery, with improved outcomes and enhanced patient experience," she further commented.
Thomson Hospital Kota Damansara is equipped with the latest and comprehensive Oncology and Nuclear Medicine facility which provides both diagnostic and therapeutic capabilities for cancer patients. Its oncology facility also proudly houses the Mediso AnyScan SPECT/CT/PET, the first Tri-modality nuclear medicine imaging equipment in the Asia Pacific region.
"At Thomson Hospital, our promise to our patients is that we will walk with you on your road to recovery. We are confident that this accreditation by ACHS will give further assurance to our cancer patients through our cancer services. We are committed to providing our valued patients the best care throughout their cancer journey; from diagnosis to treatment and during recovery, and aim for better health outcomes through our cancer services," said Dr. Tan Chih Kiang, Consultant Clinical Oncologist and Head of Clinical Oncology.
Adding on, Dr. Zool Hilmi Bin Awang, Consultant Nuclear Medicine Physician and Head of Nuclear Medicine, said, "We are pleased to be one of the pioneers to offer this Mediso AnyScan SPECT/CT/PET. Thomson Hospital Kota Damansara is constantly innovating to provide the latest diagnostic and therapeutic services for their patients. Nuclear Medicine therapies such as Yittrium-90, Lutetium-177, Ac-225 and high dose I-131 Therapy are in the pipeline, while radiotherapy and radiosurgery services will be further sub-specialised into gynaecology, haematology and paediatric treatments. We also plan on collaborating with other healthcare institutions in Malaysia and other countries in making cancer therapies accessible to them."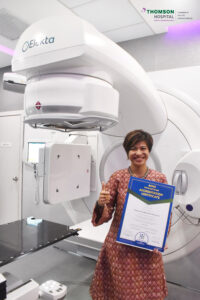 Participating in accreditation processes demonstrates Thomson Hospital Kota Damansara's commitment to a lifelong journey to attain continuous quality and safety improvements guided by rigorous international standards. ACHS International assessors are highly trained and come from healthcare organisations from Australia and around the world. The assessment process is conducted using the EQuIP Assessment Methodology which utilises a robust structure of cross-referencing, observation and information gathering.
"Thomson Hospital Kota Damansara should be proud of this achievement and the ongoing commitment it has made to continuous quality improvement to provide safe healthcare services to its patients, staff, and community," said Louise Cuskelly, Executive Director, ACHS International and Consulting.
Also sharing his thoughts was Varun Panjwani, Group CEO of Global Health saying, "GHQIA partners on the quality improvement and accreditation readiness journey, selecting associates with a shared vision and dedication. We are thrilled to work with Thomson Hospital, where everyone embodies the spirit of excellence and exhibits a passion for their patients."