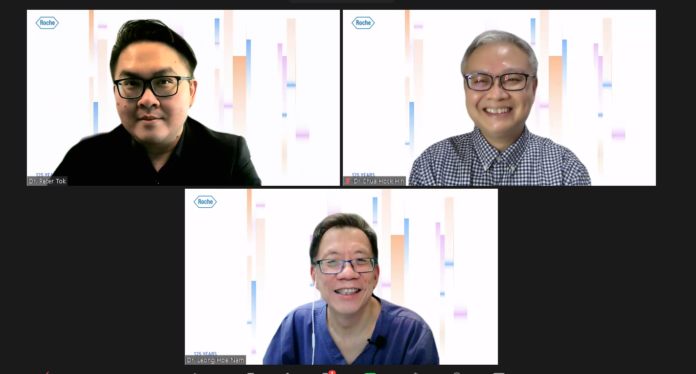 Kuala Lumpur, 15 December 2021 – While the pandemic continues to devastate communities around the world, it is apparent that the COVID-19 virus will be among us for a long time. In Malaysia, the COVID-19 pandemic has not only impacted the economy and the society, but also our healthcare resources. With this in mind, Roche Malaysia recently organised a media round table to focus on the management, interventions and treatment options, aside from the required vaccinations, to help communities, especially the vulnerable patients, cope with living the new normal.
The esteemed panelists included Dr Chua Hock Hin, Consultant of Internal Medicine and Infectious Diseases from the Sarawak General Hospital and Dr Leong Hoe Nam, Consultant of Infectious Diseases at Rophi Clinic, from Mount Elizabeth Novena Specialist Centre, Singapore while the session was moderated by Dr. Peter Tok from the Centre for Clinical Outcome Research, Institute for Clinical Research, Malaysia.
"The public needs to be aware that there are  treatment options  which are present now  and soon to be available which will help to control symptoms, as well as contributing to the prevention  and treatment of this disease," said Dr. Peter. He believes that these tools are needed to prevent and fight future COVID-19 outbreaks and minimise economic shutdowns while ensuring the public feels more at ease living with COVID-19.
"COVID-19 is the biggest global health challenge of our time, but how do we learn to live with it?" said Dr. Chua. "One of the best ways is to equip ourselves with the necessary knowledge to understand the disease and the variety of treatment options which includes modern medicines, diagnostics solutions and vaccines. As we are all aware, many companies, research institutions and governments are working tirelessly in collaboration to find therapies that have the potential to treat and manage COVID-19, while the search for safe and effective treatments must continue. That is why it is imperative that the healthcare system acts early alongside vaccines with preventive and treatment methods, in order to eradicate the COVID-19 disease."
He also added that the "most vulnerable" COVID-19 patients need to be protected as these are patients who are unable to build up an adequate antibody response against COVID-19. These patients, although they have been vaccinated, are also susceptible to breakthrough infection due to their underlying medical comorbidities or medications. "There are a number of different treatments available as well as currently being developed, aiming to address the needs of both non- hospitalised and hospitalised sick patients,  ranging from prophylactic therapies to treatment. This will hopefully help to prevent them from developing severe illness and offer more treatment options when they are  hospitalised, allowing these patients to have a new 'normal' and living with COVID-19."
Dr Leong mentioned that apart from clinical care, supplemental oxygen and mechanical ventilation, there are several treatment options which have proven effective in treating patients with COVID-19 such as neutralising antibodies (NAbs), anti-virals, immunomodulators.  Commenting on NAbs, he said "These neutralising antibodies are naturally occurring antibodies that play an important role in the immune system. They signal the presence of a pathogen in the body so that white blood cells can locate and kill it. Neutralising antibodies are responsible for blocking the entry of a pathogen into a cell so that it is firstly unable to infect healthy cells, and secondly, it is unable to replicate and cause severe infection1. Antivirals on the other hand, work differently depending on the drug and virus type. Antivirals can block receptors so viruses can't bind to and enter healthy cells, helping it fight off a viral infection and lower the viral load, which is the amount of active virus, in the body2 . Another treatment includes immunomodulators. This is a class of agent that stimulates or suppresses the immune system. We see it used in the fight against cancer, infection, or other diseases3.
Dr Leong further commented on NAbs, stating that, "These NAbs are a state of the art treatment and if given early to patients, we significantly reduce morbidity and  mortality of these patients.  We have made it this far throughout the pandemic, and we will continue to be resilient to face more upcoming challenges, especially with these innovative treatments."
Since the start of the COVID-19 pandemic, Roche has explored multiple approaches to meet the needs of those affected by the virus. Although vaccination rates are increasing globally, most countries are entering a fourth wave of rising cases, and treatment options for the full range of disease severity and variants of concern are still needed.
Deepti Saraf, the General Manager of Roche (Malaysia) Sdn Bhd said that, "In these exceptional times, we are committed to working with our healthcare system in their fight against COVID-19 and minimising its impact. We have developed a growing number of diagnostic solutions that help to detect and diagnose the infection, and continue to develop and support potential therapies which can play a role in treating the disease."
"The impact of COVID-19 goes beyond those who contract it. That is why we are working with healthcare providers, authorities and organisations to help make sure patients continue to receive the latest innovation in tests, treatment and care they need during these challenging times. Building on a longstanding tradition of partnerships, we are working together to make healthcare stronger and more sustainable in the future."