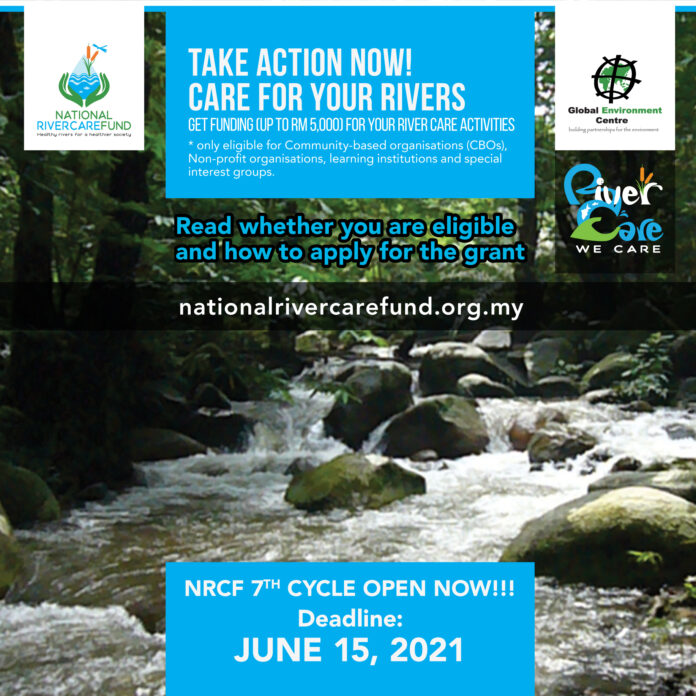 Selangor, 3 May 2021 – As the main source of water in Malaysia, rivers are an important asset to be protected and conserved by every stakeholder. Initiated by the Global Environment Centre (GEC), National River Care Fund (NRCF) – Small Grant Programme provides startup grants or operation grants up to RM5,000 per project delivering initiatives concerning river and water rehabilitation and conservation.
Community-based organisations such as resident association (RA), Kawasan Rukun Tetangga (KRT), JKKK, non-profit organisations, learning institutions and special interest groups are invited to apply for funding for the following categories:
Awareness raising, education and capacity building

Riverine biodiversity conservation;

River pollution and clean up

River Rehabilitation and Protection

Sustainable livelihood 

Best Management Practices to reduce the pollution.
Yang Berbahagia Dato Ir. Lim Chow Hock, Chair of National River Care Fund Advisory Committee said, "NRCF has been supporting groups to conduct their own river care initiatives for 6 cycles. It is a great opportunity for CBOs or any civil society groups to implement and demonstrate the best management practices in Malaysia. I believe the NRCF grant will be able to support the establishment and sustainability of community-based on water and river care initiatives as we want to motivate and empower more communities in becoming a river care society."
Returning with a new cycle, NRCF Cycle 7 will support and select 10 groups to receive the grants besides providing some training to selected groups. The application for Cycle 7 is now open until 15 June 2021. Applications must be submitted via online form or for-print form available on NRCF website. For more details about the eligibility criteria and application process, visit www.nationalrivercarefund.org.my .
Faizal Parish, Director of GEC said, "The National River Care Fund is a programme aims to encourage community-driven initiatives. Instead of relying on the government and relevant agencies to take action, we want the people to take ownership and lead in river care activities. Since its establishment in 2015, the Small Grant Programme has engaged 37 community groups/organisations, supporting actions on over 20 rivers across Malaysia and channeling over RM400,000 to river rehabilitation and conservation activities, events and trainings."