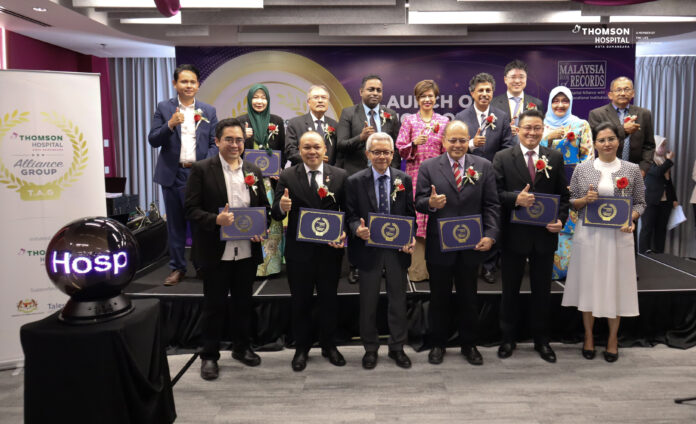 Thomson Hospital Alliance Group (T.A.G.) Program aims bolster the quality of education and increase graduate employability in the healthcare sector
PETALING JAYA, 29 May 2023 – Thomson Hospital Kota Damansara (THKD) is proud to  announce the Thomson Hospital Alliance Group (T.A.G.) Program, a strategic partnership with  selected Malaysian universities and colleges, aimed at bolstering the quality of education in  the healthcare sector and fostering enhanced graduate employability. This first-of-its-kind healthcare alliance has also been awarded "First Hospital Alliance with Tertiary Educational  Institutions" by Malaysia Book of Records.
The inaugural T.A.G. Program was graced by Chandra Mohgan Lechman, Senior  Principal Assistant Director, Academic Excellence Division, Department of Higher Education,  Ministry of Higher Education, Malaysia.
The strategic collaboration between THKD and Malaysian universities and colleges, supported  by Talent Corporation Malaysia (TalentCorp), indeed represents a significant step towards  building a strong healthcare ecosystem in the country. This partnership will revolutionize the  healthcare education landscape by effectively bridging the gap between academia and  industry, leading to a transformational impact. By synergistically leveraging the unparalleled  expertise and resources of both parties, this powerful alliance will ensure that healthcare  graduates are not only well-prepared but exceptionally equipped with the necessary skills and  cutting-edge knowledge demanded by the rapidly evolving and dynamic healthcare sector.
Nadiah Wan, Chief Executive Officer of Thomson Hospital Kota Damansara, expressed her  enthusiasm for this groundbreaking alliance, stating, "We are thrilled to join forces with  esteemed Malaysian universities and colleges, with the support of Talent Corporation Malaysia.  Together, we will elevate the quality of healthcare education and empower graduates with the  necessary skills to excel in the industry. We are immensely honored to receive the prestigious  recognition from the Malaysia Book of Records as the pioneer in establishing the First Hospital  Alliance with Tertiary Educational Institutions. This esteemed accolade highlights our  unwavering commitment to groundbreaking collaboration and innovation, propelling us to the  forefront of healthcare education in the country.
"As a rapidly expanding multidisciplinary hospital, we are always on the lookout for qualified  nurses and allied health professionals to deliver much needed services to our community.  Addressing the shortage, especially nurses in subspecialty areas, THKD looks forward to  working with our T.A.G. partners by building a pipeline to employ their well-trained graduates  and working together to deliver excellence for our patients, students, lecturers and wider  community," she continued.
The support of TalentCorp further solidifies the significance of this alliance. TalentCorp is  known for its commitment to nurturing local talent and fostering collaboration between  academia and industry to help drive the nation's economic growth. Their support will help  catalyze the development of a robust healthcare ecosystem, positioning Malaysia as a regional  leader in healthcare education and employment.
Thomas Mathew, Group CEO of TalentCorp, commented, "We are proud to extend our support to Thomson Hospital Kota Damansara who leads the way in ensuring that the next generation  of healthcare professionals are well-prepared to meet the challenges of the future. The  industry-driven framework for T.A.G. is strategic and timely, and TalentCorp will work closely  with the alliance to develop a skilled and diverse workforce, entrenching Malaysia's position  as a premier talent destination."
This transformative Thomson Hospital Alliance Group holds tremendous potential for  Malaysia's healthcare sector, education landscape, and graduate employability. Thomson  Hospital Kota Damansara is proud to spearhead this novel initiative, and the hospital remains  committed to fostering partnerships that drive innovation, improve education quality, and  ultimately build a healthier and more prosperous nation.
The participating universities and colleges under the T.A.G. Program currently include:
1. Cyberjaya College Kota Kinabalu
2. International Islamic University Malaysia
3. Lincoln University College
4. MAHSA University
5. Nilai University
6. SEGI College Kuala Lumpur
7. Universiti Malaysia Sarawak
8. Universiti Sains Malaysia
9. Universiti Teknologi Mara
10. University of Cyberjaya
11. UOW Malaysia KDU
12. Vision College
13. Widad University College
The Thomson Hospital Alliance Group is one of many initiatives to support Thomson Hospital  Kota Damansara's longstanding commitment to advancing education and contributing to the  nation's development. Other initiatives undertaken by the hospital include participation in the  Penjana Kerjaya scheme with PERKESO and Peneraju Juang Skil Kerjaya Programme together  with Yayasan Peneraju Pendidikan Bumiputera and Khazanah Nasional.