Malaysia, 21 March 2022- Startups in the Fintech, Islamic Fintech, Insurtech, Healthtech, and Proptech industry are welcome to apply for the Alpha Startups™ for Insurtech Pre-Accelerator organised by 1337 Ventures and FWD Start-Up Studio, supported by Malaysian Research Accelerator for Technology and Innovation (MRANTI) and Malaysia Digital Economy Corporation (MDEC).
In its 3rd Cohort, the Alpha Startups™ for Insurtech Pre-Accelerator aims to identify and assist aspiring Malaysian entrepreneurs ideate, validate and fine-tune business and go-to-market plans for startups who have products/services in the area of Fintech, Insurtech & Takatech, and Islamic Fintech space in Malaysia.
We are looking forward to having more participation from Islamic Fintech startups to pave forward the Twelfth Malaysia Plan (12MP) that has stated Islamic Finance and Fintech as its important pillars.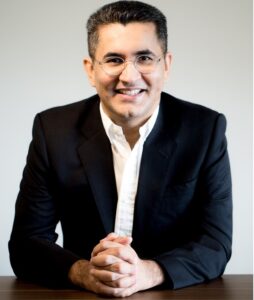 Bikesh Lakhmichand, CEO & Founding Partner of 1337 Ventures
"Malaysia tops the Global Islamic Fintech Index (GIFT) for conductivity in Islamic finance and is leading the iFintech Hubs Maturity Matrix. With a strong competitive advantage in Islamic finance in terms of industry, research and development as well as market growth, we hope to be able to nurture more home-grown Shariah-compliant Islamic fintech innovations through our upcoming cohort", shares Bikesh Lakhmichand, CEO & Founding Partner of 1337 Ventures.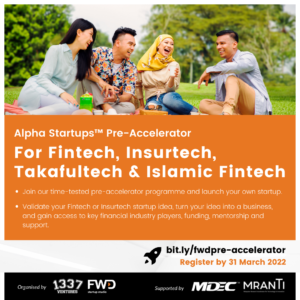 The upcoming cohort will first host 25 startups in a 5-weeks pre-accelerator. 10 teams will then be shortlisted for an 8-weeks mentoring by a diverse mentor network from renowned Fintech/Insurtech business leaders, technology experts, investors, Shariah compliance experts and more. The final day of the programme will culminate in a Demo Day where the top two teams will receive an investment of RM150,000 each.  Here are other benefits of joining the programme:
Up to USD100,000 of cloud credits from Amazon Web Services
The opportunity to explore potential Proofs-Of-Concept (POCs) with FWD
A springboard into the MRANTI which gives start-ups a "green lane" when applying for the National Technology and Innovation Sandbox (NTIS)
The startups that participated in the previous cohorts have walked away from the programme better equipped to be game-changers within their respective industries. Cohort 1 winners were BlueDuck and Kapitani. Recently, BlueDuck and Finory (Cohort 1 Finalist) were also awarded first place and third place respectively at Bank Negara Malaysia's (BNM) Alpha Startups™ MyFintech Week 2022.
Learn more and apply for the Alpha Startups™ for Insurtech Pre-Accelerator at www.fwdstartupstudio.com for the full programme details. Registration closes 31st March 2022.