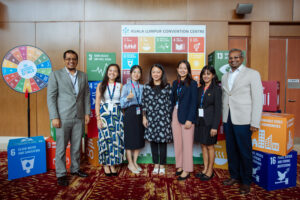 Kuala Lumpur, 24 August 2023 – The role of young executives has never been more crucial in shaping Malaysia's future. As the nation faces pressing challenges encompassing sustainability, economic growth, and social inclusivity, young professionals find themselves at the forefront of driving transformative change. 
The Young Executives Sustainability Summit 2023 (#YESS2023) organised by UN Global Compact Network Malaysia and Brunei (UNGCMYB) culminated on a high note with an inspirational dialogue featuring YB Hannah Yeoh, Minister of Youth and Sports, Malaysia. The dialogue highlighted how young executives can drive Malaysia towards a resilient and sustainable future. 
"You have to participate and experience a variety of activities and causes to discover your passion and areas where you think you could contribute most," said YB Hannah Yeoh, who also advised youth to "join various programmes under Rakan Muda, make new friends, find people with similar interests and self-organise activities to champion the causes you are aligned in." 
Themed "Leading The Charge For A Sustainable Future", the event brought together a diverse group of young as well as experienced professionals who are passionate about sustainability and eager to drive impactful change. This summit addressed the crucial role that the youth play in spearheading sustainability initiatives, with a strong focus on collaboration, innovation, and intergenerational leadership. 
Faroze Nadar, Executive Director, UN Global Compact Network Malaysia and Brunei (UNGCMYB) shared his own reflections on working closely with his dedicated team of young leaders "Throughout my experience, I've witnessed the unparalleled passion of young professionals in championing sustainability. Their dedication and fresh perspectives make a compelling case for the need to foster more intergenerational relationships. By providing them with the right platforms, we can harness the dynamism of young executives to create innovative solutions and bring about the positive change our people and planet urgently needs,"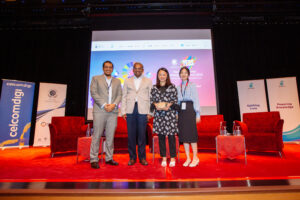 The event which took place today in Kuala Lumpur, Malaysia convened over 300 young professionals aged 20 to 35, industry experts, and thought leaders to focus on empowering participants with actionable insights and strategies that can be applied within their industries and communities. 
#YESS2023 was supported by PETRONAS as the venue partner, accompanied by esteemed partners including Bursa Malaysia Berhad, CelcomDigi Berhad, foodpanda, KLCC Property Holdings Berhad, Malaysia Aviation Group, Press Metal Aluminium Holdings Berhad, Sarawak Energy and Tata Consultancy Services (TCS Malaysia).