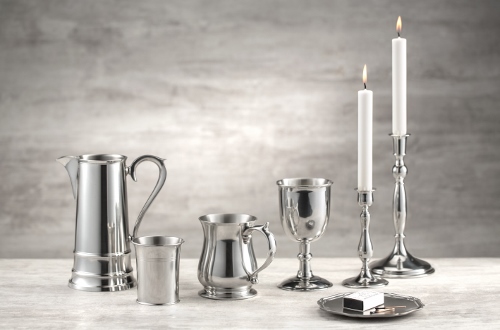 A perfect evening of fine food and conversation lies in the subtle mastery of dinner party nuances — the setting of the table being one of the most important.
Liberty, with its polished pewter surfaces is a contemporary reimagination of the lavish tablescapes rooted in the Sun King's court banquets.
French style and taste set the standard for high style European dining in the 17th and 18th century.
The evocative power of a well-set table to showcase the prestige of the host was also embraced by the elites of the New World, from northern British Canada to New Spain.
In British America, pewter flatware formed elegant props to sumptuous entrées, main courses and desserts, flanked by pewter vessels containing rich wines laid on a decorated table lit by slender pewter candlesticks.
Durable with a lustre rivalling silver, pewter was shaped into a wide variety of household and personal items by English and American pewterers.  So highly regarded was the craft of pewter that there were guilds which regulated standards of workmanship and training. Like silverware, pewterware had touchmarks that that identified its maker.
Set a warm inviting atmosphere with sleek candlestands from the Liberty collection. Available in 6 or 9 inches, they are as elegant on the mantle or sideboard as they are on the dinner table.
Serve favourite drinks with Liberty beakers. For a free flow of drinks during patio parties, the collection also carries a jug that adds a touch of timeless sophistication to any tablescape.
A modern take on the classic tavern tankard makes an appearance in this collection. The elites would descend on taverns to commemorate special occasions such as the King's birthday. For those who savour wine, the collection also features a goblet.
Completing the collection is a 6-inch wavy edged valet tray. Perfect for serving hors d'oeuvres, cocktails, or keeping keys or jewellery, it would look stylish on the dinner table or dresser.
All   Liberty tableware is food safe. As each piece age, it develops a rich warm patina that gives it a unique quality of an heirloom piece.
The Liberty collection is available at any Royal Selangor retail store, authorised dealers and online at royalselangor.com.