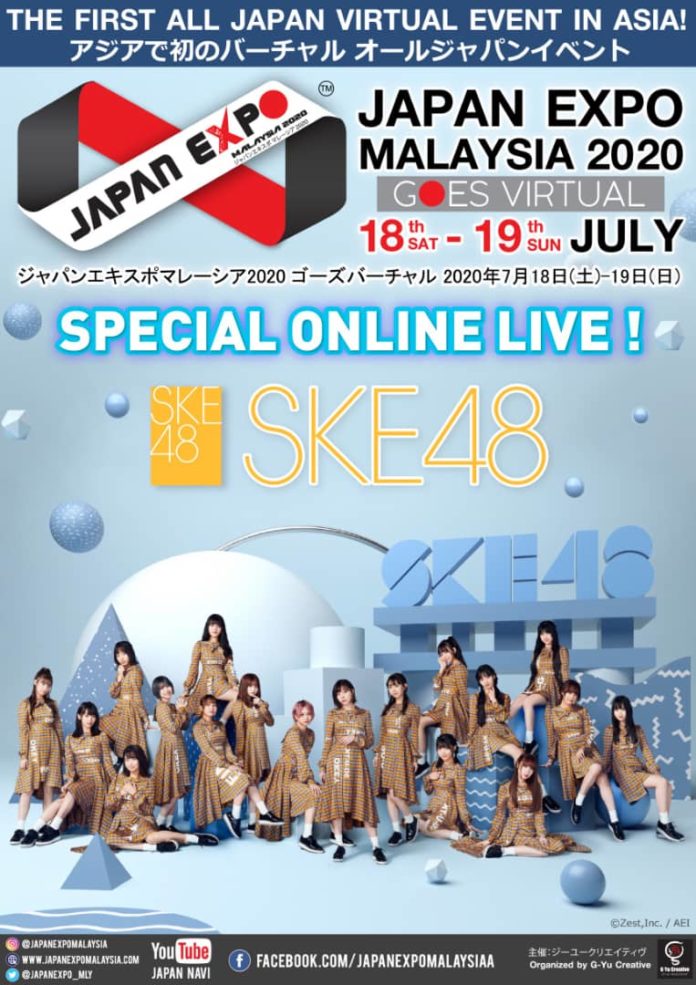 Kuala Lumpur, 1 July 2020 – J-POP is slowly making waves in our shores and gaining popularity among fans as more and more youth find it appealing.
J-POP is regarded as a hybrid music which is a fusion between foreign music and Japanese element. The sound of songs is refreshing and mainstream. As compared to the other parts of the world, Asians youth feel that they are closer to Japanese idols because they are down to earth and present themselves like people next door.
Newstream Asia had recently one such experience of getting to know a popular J-POP idol, SKE48, as they were preparing ahead for the virtual concert for JAPAN EXPO MALAYSIA 2020
SKE48 was created with the concept of a next door idol that fans could meet especially during their regular appearance at Sunshine Sakae of Nagoya Theatre. SKE48 is the first-ever sister group of AKB48 which was established with SKE48 standing for Sakae48.
There was no doubt that the members were excited to perform in front a global audience this time "Knowing that we did not have many opportunities to show our performance to our fans in overseas, I'm happy and excited to present our performance this time" said Haruka Kumazaki, from Team E.
A major distinction that sets the group apart is the members' dynamic dancing with fast paced choreographies and performance.
"We will make sure we maintain the same performance as what the audience has seen of SKE48. We are excited not to just to appear in front of those who have watched us before but also to the new audience" added Yuki Arai.
The group's remarkable single "Kin no Ai, Gin no Ai" in 2016 had topped the Oricon Weekly Singles Chart ranking and Billboard Japan Hot 100. They will be making their first onscreen collaboration with the JKT48, their sister group from Indonesia this Saturday.
Coming from different regions, the performance of these two idol groups will be unprecedented and unforgettable.
After watching the performance of the Indonesian sister group on video, the members of SKE48 are looking forward to deliver a memorable show.
Yuna exclaimed " I really want to see their live performance, sing and dance together. We hope to get to know each other better through this virtual event"
JKT48 usually performs songs by AKB48 and other sister groups that are translated into Indonesian. The combo of the two sister groups will definitely send the audience into frenzy.
The fact that there are different sister groups around the region definitely excites the members of SKE48. During the interview, Kaho Sato shared how they bond with their different sister groups.
"As related culture in the different regions of Japan might be different, I enjoy talking to them and find something new from those members coming from different areas. In particular, knowing that those member from different regions are often with full of love and kindness, I really like experiencing such warm feeling with them" she says
Fans  can definitely look forward to an  upbeat, entertaining, and full of energy virtual concert from this bubbly girls
JEMY 2020 Goes Virtual at:-
JEMY LAUNCH VIDEO:
FACEBOOK
YOUTUBE CHANNEL : JAPAN NAVI
For More Information:-