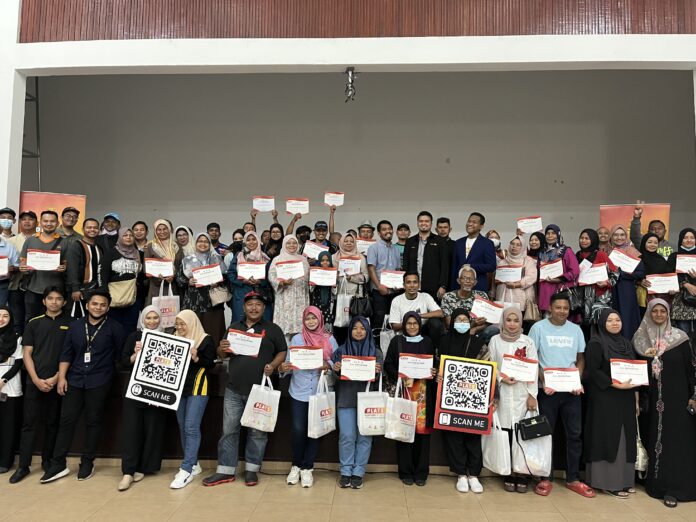 State initiative programme sees almost 62% increase in vendors being approved for training for modernised economy.
SHAH ALAM, 14 March 2023 — Platform Selangor (PLATS), a platform that steers Selangor micro-merchants or hawkers towards an era of digitalisation has seen success since its implementation with over 20,271 merchants registered with the platform.
"We take pride in these statistics because it proves that we are helping these individuals to continuously grow towards the era of digitalisation. It is also evident that we are helping them build their online profiles which is ultimately a beneficial initiative," said Permodalan Negeri Selangor Berhad (PNSB) chief executive officer, Y.M. Raja Ahmad Shahrir Iskandar Raja Salim.
PLATS is an initiative of the Selangor State Government driven by the Minister of Selangor Incorporation  (MBI) with the cooperation of its subsidiary PNSB, while the training is the state's proactive measure to help the citizens elevate their business through a digital community platform. It aims to mobilise the merchants, hawkers and retailers.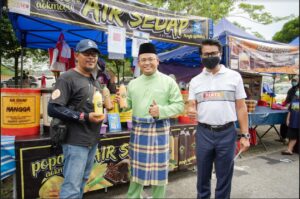 When it was established In 2021, the initiative drew an objective to register and digitalise 20,000 merchants in 2021 and another 10,000 merchants in 2022. By the end of 2022, it was clear that PLATS had surpassed its target set by its stakeholders.
In 2021, a total of 7,742 merchants were approved out of the 7,765 that had registered on PLATS website. In 2022, a total of 684 hawkers from the Bazaar Ramadan and Medan Selera were approved to undergo training in addition to another 11,881 merchants for the year. This marked a 61.8% increase in vendors who had undergone PLATS training, a collaborative program with city and municipal councils in Selangor. 
"PLATS also provided 133 students, fresh graduates and freelancers job opportunities at Rakan Digital Selangor (RDS). The RDS team is tasked to go on the ground to train all local merchants and hawkers on how to register their businesses on the PLATS website," he said.
PLATS also conducted over 50 programs such as on the ground training for micro-merchants in partnership with all 12 local authorities in Selangor.
Among the other topics of study for micro-merchants and hawkers include how to manage social media accounts, basic editing of social media posts, management process of online orders, the adoption of cashless transactions and the order of basic digitalisation of businesses.
Chicki Mart Food Truck Muhd Khairzman testifies that PLATS helped boost the sales operations of the company.
"Many customers have approached me to ask about the products that we have for sale. Alhamdullilah, my business has grown and we have welcomed many new customers across the nation including those from Seri Kembangan, Klang and Negeri Sembilan
"Chicki Mart has also become a supplier for chicken snacks for schools in the Selangor area," he added.
Fatinnur Ain Zulkifli, of Aten's Kitchen said, "Alhamdulillah, after the PLATS Carnival last year, many customers have made aware of my business which mostly are from the Selangor area. The sales that I am achieving now have increased to 10-15% from the carnival itself. I wish to express my gratitude to PLATS for giving me and other merchants this golden opportunity."
Pursuant to these successes, Y.M. Raja Ahmad Shahrir Iskandar says, PLATS is determined to continue with the training programme, raising the profile of businesses in Selangor in the era of digitalisation.
"We are definitely interested to hear how our merchants would like to develop their business more and encourage them to follow-up, or enquire with us on the website through the PLATS customer service support under the 'Contact Us' tab," he added.
Continuing  PLATS' initiative to help the micro-merchants, hawkers and traders, a PLATS Digital Ramadan Bazaar will be organised — gathering traders and their offerings into a single directory page. This is expected to reduce crowding issues at Ramadan bazaars throughout Selangor.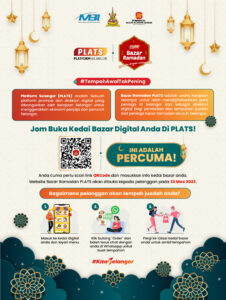 In conjunction with this effort, PLATS and the state's 12 local governments are allocating 14,430 digital business spaces for traders to further expand their business in the holy month of Ramadan. The directory will feature a WhatsApp link for users to connect directly with the hawkers to pre-order their food selection without having to wait or queue.
"What makes this effort unique is that it will offer the public direct access to their favorite food vendors and there are almost 100,000 Iftar dishes listed on the directory for people to enjoy," Y.M. Raja Ahmad Sharir Iskandar added.