Malaysia, 26 January 2022 – Ong Yew Sin and Teo Ee Yi – Malaysia's badminton doubles pair who clinched the bronze medal at the BWF 2021 always make every serve and smash look easy whenever you see them in action on the badminton court. Of course, all of that is preceded by months of rigorous training before each competition.
With such a demanding regiment, how does the dynamic duo stay in peak condition while keeping track of their training progress?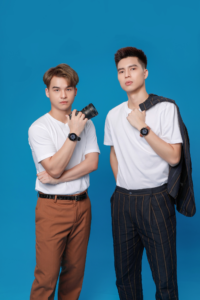 Ong Yew Sin and Teo Ee Yi – Malaysia's badminton doubles players
"Aside from sparring and improving our techniques, we do a lot of other physical training like running, swimming, and lifting weights to improve our stamina and strength. But the challenging part is keeping track of our performance – which has been so much easier ever since we started wearing the GTR 3 Pro," says Ong.
The GTR 3 Pro is one of Amazfit's latest additions of smartwatches in their range of the newly launched GT3 Series.
"Thanks to the GTR 3 Pro's various sports modes, we're able to keep track of our training regiment because it's important for us to make sure we are constantly improving by making sure we meet our goals for each training session," explains Teo.
With over 150 sports modes, Ong and Teo are able to ensure they train according to what is required to prepare them for the court. They're able to keep track of the distance they cover when they run or swim, the amount of weight training needed to burn calories and most importantly, how each sparring session goes.
Aside from that, the GTR 3 Pro's '1-tap 4 health metrics' function enables them to instantly get a reading of their vital signs to ensure they are not training beyond the limits of their bodies.
"Even though we're trained athletes, it concerns us to hear all the recent news of people collapsing from overexerting themselves while playing sports or exercising. That's why it's such a convenience for us to be able to tap on our watch and make sure our vital signs are normal without having to interrupt our training. The last thing we want is being forced to withdraw from a competition due to health concerns," said the duo.
Among other new features built-in to the GTR 3 Pro is the all-new ZeppOS – a powerful and efficient operating system that makes interacting with the watch a seamless experience. The duo also marveled at the watch's battery life of up to 12 days as they don't have to worry about constantly charging the GTR 3 Pro due to their packed training schedule.
Amazfit GTR 3 Pro is available for purchase on Amazfit's Official Store on Shopee and Lazada. Retailing at only RM 929 you too can own one and keep an active and healthy lifestyle like a professional athlete.