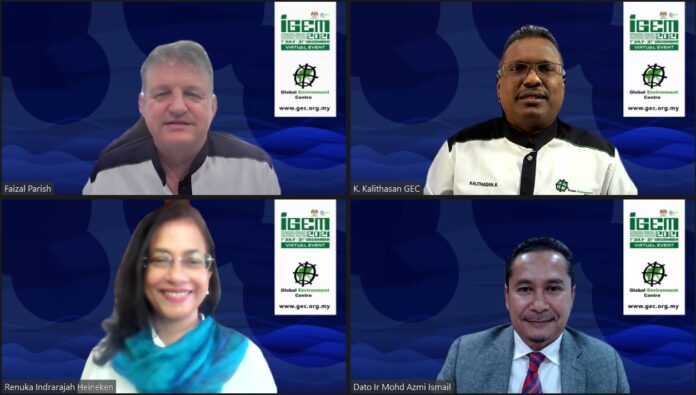 Petaling Jaya, 24 August 2021 – Our Malaysian public must wake up to the reality that there is no alternative to water resources. Hence, there is a need to pay more careful and urgent attention to the growing challenges the country faces in tackling issues of water security particularly with regards to excess water consumption and unsustainable water management practices nationwide.
"We must view water security in Malaysia as a matter of national security. We cannot delay further – the time is now! The onus is on everyone: every stakeholder. Not just the government and the authorities, but also business leaders, consumers – both commercial and residential, as well as local communities.
"We all must all work towards developing smart partnerships through multi-stakeholder engagement between governments, private sector and members of the public," Global Environment Centre (GEC)'s River Care Programme manager, Dr Kalithasan Kailasam said in his presentation at the International Greentech & Eco Products Exhibition & Conference Malaysia (IGEM) 2021 Virtual Conference Session on Water Resources Management: Redefining Sustainability today.
In his presentation entitled "GET SMART – Partnerships the Sustainable Way", Dr Kali, as he is known in river and water conservation circles, said: "we must redefine our water resource management and acknowledge People are the key drivers to the success of these partnerships".
Be it federal and local government agencies, private sector, education institutions, local community, civil societies including politicians and spiritual leaders, the media and the general public – we are all people. "And together, custodians of this earth, we are tasked also to protect and safeguard all its natural resources, particularly the flora and fauna. And that we must do well to reconnect with nature".
Adding to this, Department of Irrigation and Drainage (DID) Director-General, YBhg Dato' Ir Nor Hisham Mohd Ghazali said: "A Cultural shift of society is crucial to manage our water resources sustainably, through improved management of rivers, ensuring access to clean water and balancing with economic needs".
He reiterated the call to strengthen existing public-private sector collaborations and to find creative ways to build new ones that which provide more creative sustainable and solutions to address the country's water management and water security issues. He said this in his presentation entitled "The Interconnectivity of Water Resources. Economy and People". DID Deputy Director-General, YBhg Dato' Ir Mohd Azmi Ismail, represented the department in the live panel discussion in place of YBhg Dato' Ir Nor Hisham.
Leading on the forefront of corporate participation in Water Stewardship projects is SPARK Foundation.
According to SPARK Foundation's Trustee Member, Ms. Renuka Indrarajah: "Potable water is not an infinite resource. Water scarcity, wastage and pollution are real issues that confront the world and we want to do our part to protect our watersheds".
SPARK Foundation, the CSR arm of Heineken Malaysia Berhad, through its Water Stewardship projects with GEC enable the company to protect its water source, whilst reducing demand on treated water through water conservation and alternative water supply for local communities.
 "We call upon other industries to start looking into sustainable water management practices. With collective action, we can be part of the solution to safeguard the sustainability of water supply for all," said Renuka who is also Heineken Malaysia Berhad's Corporate Affairs and Legal Director said in her presentation entitled "Sustainable Water Use: Business Solutions and Social Obligations".
According to the session moderator, GEC Director Mr Faizal Parish, today's conference session was aimed at enhancing the understanding of Malaysians on local water resources, while improving understanding on sustainable management practices for sustainable water resources management and consumption in Malaysia.
"We hope it sheds light on the how businesses can integrate sustainable water management within their operations, while engaging meaningfully to fulfil their social and environmental obligations" he said, the event was a timely opportunity to promote the importance of multi-stakeholder engagement and cohesiveness to the 90 over participants.
Today's session was the first of three Virtual IGEM conference sessions GEC is organising as an IGEM conference partner this year. GEC will be hosting virtual conference sessions on Greenhouse gas emissions from peatlands and sustainable peat management on Sept 8 and Oct 14 respectively. This year marks GEC's third consecutive year as an IGEM conference partner.
For more information on the GEC's virtual conference sessions at IGEM and other activities, refer to our website: www.gec.org.my and our social media platforms (Facebook, Twitter, LinkedIn and Instagram).