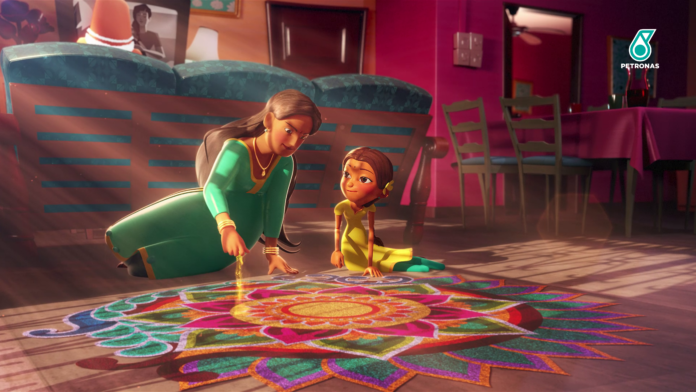 Kuala Lumpur, 4 November 2021 – PETRONAS ushers in this year's Deepavali celebration with the release of its fully animated webfilm Akka, a tale that presents the message of embracing love and finding light during these trying times.
This loose adaptation of the ancient Indian epic of Ramayana draws parallels between the experiences Malaysians are facing during the COVID-19 pandemic with the battle against darkness. It urges us to have faith and own our power in this journey towards recovery.
In the webfilm, the main character Dheeya goes on a journey of self-discovery. Along the way, she learns valuable life lessons and that love is also an act of responsibility. Dheeya also learns to turn her anger and frustrations into love and acceptance.
Anchoring on PETRONAS' 2021 festive theme Stories of Joy, Akka hopes to capture the spirit of Deepavali, the triumph of light over darkness and good over evil that serves as a reminder on the importance of family and faith in overcoming any obstacle.
PETRONAS Senior General Manager of Group Strategic Communications, Datin Anita Azrina Abdul Aziz said, "The pandemic remains a challenge for Malaysians this festive season. However, it is also a time for unity and celebration within the community and among all of us. Light the lamp of love within, and it will take you forward.
"We at PETRONAS wish all Malaysians celebrating this Festival of Lights, Happy Deepavali. May light and love always prevail."
The four-minute webfilm is available for viewing on PETRONAS' official YouTube channel and Facebook page.
In conjunction with the launch of the webfilm, specially designed kolams – a form of traditional decorative art drawn using rice flour – are being displayed at the Lingkaran Karak and Mutiara Damansara PETRONAS stations until 8 November 2021. The kolams, created by local artist Lashanya Rangoli, depict scenes from the webfilm.