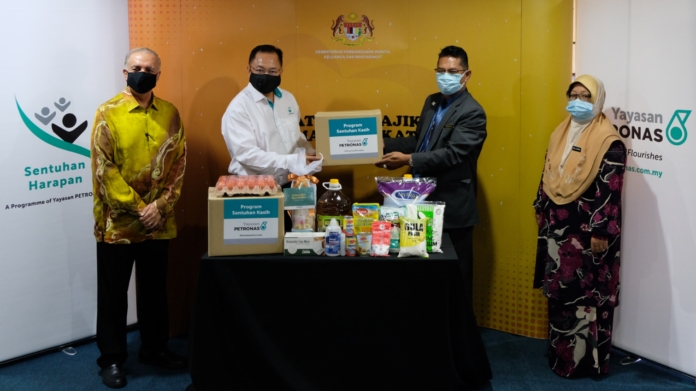 Kuala Lumpur, 12 May 2021 – Yayasan PETRONAS is distributing food aid and hygiene kits to 5,400 underprivileged beneficiaries in all states nationwide through this year's Sentuhan Kasih Festive programme in conjunction with Hari Raya Aidilfitri, Gawai and Kaamatan celebrations.
Together with Jabatan Kebajikan Masyarakat representatives, PETRONAS volunteers will distribute food essentials, including rice, cooking oil, sugar, salt, eggs, flour, condensed milk, sardines, cream crackers, glutinous rice, face mask and hygiene kits to selected families across Malaysia.
Yayasan PETRONAS will also be packing two boxes of festive cookies specially made and delivered by 11 Program MEKAR (Memampankan Ekonomi Asas Rakyat) participants to recipients in the Northern and East Coast regions. Meanwhile, seven local home-based bakers with registered businesses from the B40 communities in Sabah and Sarawak will be delivering their cookies to the recipients in both states.
Yayasan PETRONAS CEO Nelly Francis Shariah said: "As our nation continues to address the COVID-19 challenges, Yayasan PETRONAS remains committed in supporting the underprivileged community. The festive cookies are meant to bring joy not only to the beneficiaries, but also to the Program MEKAR participants who are able to boost their income during the festive season."
Program MEKAR, amongst others, provides entrepreneurship skills training for B40 communities with the aim of addressing poverty at the grassroots. In the past two years, 1,045 individuals have
been trained in courses such as baking, sewing, carpentry and woodworking, as well as business and marketing. The skills training through Program MEKAR is conducted by the Northern Corridor Implementation Authority in Kedah, MyKasih in Kuala Nerus and East Coast Economic Region Development Council in the East Coast states. The participants are pleased to be able to get involved in the Sentuhan Kasih Festive in baking the cookies, packaging and delivering the contribution.
Sentuhan Kasih Festive is a yearly programme that coincides with key festive seasons. It aims to spread joy and improve the quality of life for the underprivileged. The programme is part of Yayasan PETRONAS' community well-being and development focus area and is also in line with the PETRONAS Sustainability Agenda and the United Nations' Sustainable Development Goals.