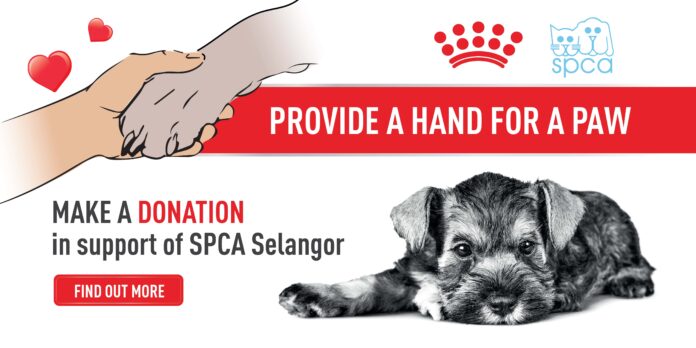 Kuala Lumpur, 13 September 2021 – The health pandemic has dealt great blows globally, taking a toll on humans as well as the voiceless, furry creatures, especially those that do not have homes and families.
More often than not, these fur friends are referred to many animals shelters the likes of Selangor Society for the Prevention of Cruelty to Animals (SPCA) – a close partner of leading pet health nutrition company, Royal Canin.
"The COVID-19 pandemic has impacted the livelihood of many. It has also hit animal shelters which have had to rescue and accommodate more cats and dogs. Due to the continuous Movement Control Orders (MCO), adoption rates are not as encouraging as before, and funds from the shelters' contributors are also low," said Rani Achyar, Professional Pillar Head at Royal Canin Philippines, Indonesia and Malaysia.
In answer to the call for help for increasing expenses that also encompass medical coverage and food, Royal Canin is launching a fund-raising campaign to aid in reducing the financial burden of SPCA Selangor's operational costs.
The campaign kicks off from September 13 till October 31, 2021 and allows for customers to make a contribution ranging between RM5 to RM100. The contribution is made before checking-out while shopping on Royal Canin Store on Shopee.
"This is our first time raising funds using this particular method, we realise that there are many generous animal lovers out there who are looking for channels to help out shelters and organisations in these hard times.
"SPCA Selangor – which is also our partnered shelter – had approached us to explore the possibility of Royal Canin helping them in fund-raising and this was an opportunity for us to try this out and learn on this journey," added Achyar.
"No amount is too small and what we raise from this would be great enough to support SPCA Selangor. 100% of all donations received through Royal Canin Official Store on Shopee will be transacted to SPCA every Friday. An update on the fund status will be published on Royal Canin Facebook page on a weekly basis," Achyar commits.
The campaign aims to touch people's hearts to realise the dilemma faced by the local shelters. It is hoped that people respond to giving their best within their affordability to help the shelter sail through this period of difficulty.
"We feel strongly for the homeless cats and dogs that need us, humans, to survive. After all, our mission is 'To create a better world for cats and dogs." Achyar added.
Christine Chin, the Chairman of SPCA Selangor thanks the Royal Canin management and team for this kind and thoughtful fundraising campaign to support SPCA in her work in animal welfare. This gesture is very timely and welcoming as it will be a great help especially during current times.
The next time you browse Royal Canin Official Store on Shopee in search of health nutrition for your furkid, spare a thought for fur friends who have sought shelter at a charitable organisation. Your contribution – big or small – will definitely make an impact on their lives.