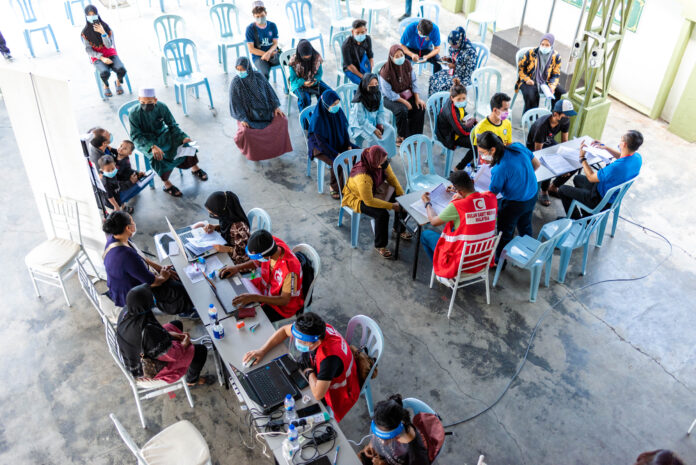 Kuala Lumpur, 30 October 2021 – PETRONAS Dagangan Berhad (PDB) has initiated a donation drive for the benefit of the Malaysian Red Crescent Society's (MRCS) pandemic relief programmes aimed at assisting front-liners and communities battling COVID-19.
Mesra cardmembers can now opt to redeem their points as donations to be contributed to any of MRCS' programmes including donations for COVID-19 Response Efforts, Emergency Ambulance Service, Disaster Relief and Response as well as Health and Community Services. Contributions in the amount of RM10 and RM20 denominations can also be made directly via the Setel mobile application.
PDB Managing Director and Chief Executive Officer Azrul Osman Rani said, "Since the onset of the pandemic, PDB has continuously helped front-liners and the public through various community service programmes, including our Coffee Break Campaign and more recently, our Foodbank Programme. This new partnership with MRCS enables us to extend our contribution and reach out to more organisations and individuals. Most importantly, we are able to avail a platform for our customers who want to contribute through Mesra points redemption."
Earlier this year, PDB organised the Power of Seven Virtual Run in aid of the MRCS Mobile Vaccination Programme. Proceeds generated from the participation fees enabled the purchase of medical supplies such as face masks, face shields, gloves and alcohol swabs for the programme.
The MRCS Mobile Vaccination Programme is the first of its kind to be led entirely by a humanitarian organisation. MRCS is appointed by ProtectHealth to participate in the National COVID-19 Immunisation Programme as a Healthcare Organiser Non-Governmental Organisation (NGO). Through this programme, MRCS reaches out to the affected communities such as those who are bedridden, the disabled, refugees as well as undocumented and stateless migrants.
"This mobile clinic initiative is aligned with MRCS' aim to provide care and relief assistance to at-risk and vulnerable communities," said MRCS National Chairperson, Her Highness Dato' Seri DiRaja Tan Sri Tunku Puteri Intan Safinaz binti Almarhum Sultan Abdul Halim Mu'adzam Shah, Tunku Temenggong Kedah.
"This programme really meets MRCS' objective of leaving no one behind in all our efforts. Ensuring the vulnerable are adequately protected against the virus is a humanitarian imperative."
The Power of Seven Virtual Run, organised in conjunction with the celebration of the Mercedes- AMG PETRONAS F1 Team's 7th World Constructors' Championship win, ran from 1 April to 31 May 2021 and received a total of over 18,000 participants.
Azrul added, "Through the Virtual Run, participants had the option of paying to participate or fuel up with our PETRONAS Primax 97 with Pro-Race fuel for a complimentary entry. This is also part of our intention to allow more motorists to enjoy the power of our new fuel."
Dubbed as its best fuel yet, the PETRONAS Primax 97 with Pro-Race utilises a formulation unique to PETRONAS and is enhanced with the world's first Advanced Dual Friction Modifier that reduces friction by 25% more than the previous fuel. The friction modifier chemistry incorporates a unique fuel and oil interaction formulation that increases fuel efficiency, resulting in further mileage and lower carbon emissions. The new fuel also removes 99.9% of deposits from key areas in the engine, unlocking the car's full potential to achieve effortless power.
For more information on how to contribute to MRCS, login to the Setel mobile app or visit www.mymesra.com.my.