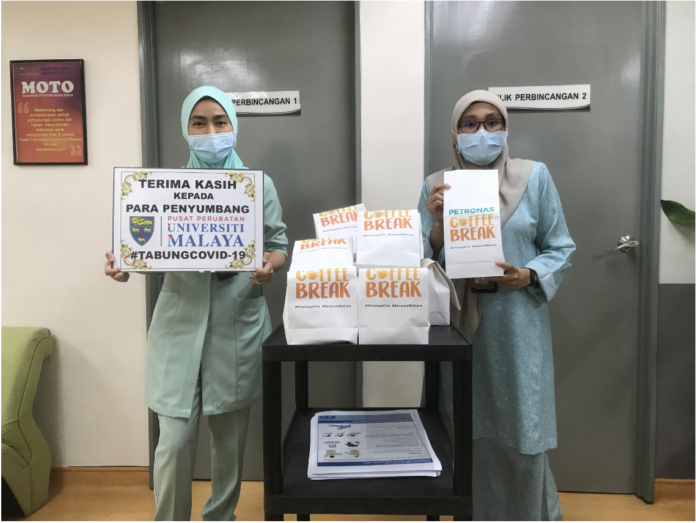 Kuala Lumpur, 22 May 2021 – PETRONAS Dagangan Berhad (PDB) continues to spread Ramadan and Hari Raya Aidilfitri joy by contributing to front-liners through its annual PETRONAS Coffee Break Campaign, which is in its 23rd year now, and offering an array of attractive deals for customers.
PDB, together with its partners, contributed coffee and snacks to over 1,000 front-liners at University Malaya Medical Centre and Kuala Lumpur Hospital as a show of support and appreciation for their unwavering dedication and efforts in the month of Ramadan.
The campaign partners include Nestlé Products Sdn Bhd, Delfi Marketing Sdn Bhd, iNova Pharmaceuticals (Singapore) Pte Ltd (Malaysia Branch), Julie's Manufacturing Sdn Bhd, Shopee Mobile Malaysia Sdn Bhd, Karabao Marketing (M) Sdn Bhd, S.L. Marketing (M) Sdn Bhd, Yee Lee Trading Co. Sdn Bhd and Adabi Consumer Industries Sdn Bhd.
Speaking about the initiative, PDB's Managing Director and Chief Executive Officer Azrul Osman Rani said, "Last Ramadan, we contributed the same to our front-liners to remind them to take a break from working around the clock. A year later, they are still fighting hard as the COVID-19 battle has not been won yet. We hope our contribution is able to lift their spirits and remind them to rest and recharge."
In addition, PDB contributed RM42,000 in kind – cooking gas cylinders, food catering for breaking of fast and other essential items – to 14 charitable homes nationwide through its Ikhlas Ramadhan Bersama Gas PETRONAS initiative. It also contributed 150 units of cooking gas cylinder to Masjid Jamek Kampung Baru to help with their cooking needs for the community.
Further spreading the joy, PDB has curated an array of attractive deals for customers who fuel up with PETRONAS. The Raya Refer A Friend programme, which is ongoing until 31 May 2021 allows both users adn their referrals to earn RM5 worth of Setel Credits each when the referred new user spends RM30 via Setel App. Moreover, the Gempak Fuel Dengan Setel Campaign that runs until 21 July 2021 offers a grand prize of RM2,000 worth of Setel Credits with every RM50 fuel transaction made via participating CIMB credit cards.
For those looking to service their vehicles, PETRONAS AutoExpert is offering up to 40% discount for a selection of PETRONAS Syntium Car Service packages from now until 13 June 2021. Meanwhile, customers who purchase PETRONAS Sprint lubricants by 31 May will receive free premium items.