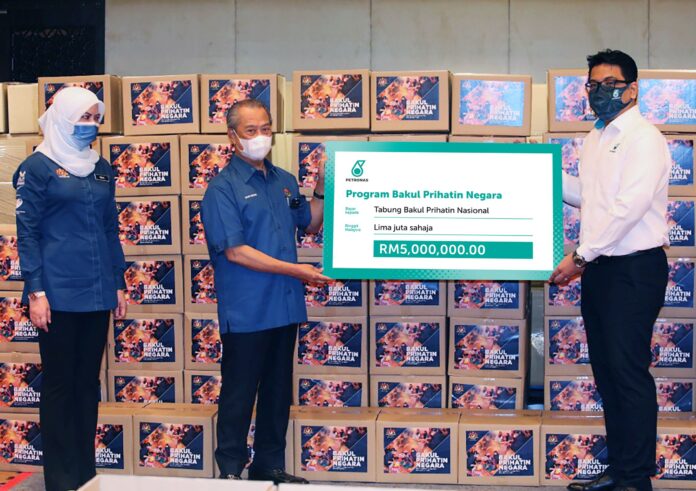 Kuala Lumpur, 19 July 2021 – PETRONAS is contributing RM5 million to the "Program Bakul Prihatin Negara" to support the efforts of the Malaysian Government in alleviating the impact of the COVID-19 pandemic on society under the Perlindungan Ekonomi dan Rakyat Malaysia (PERMAI) assistance package.
The programme was launched by Prime Minister Tan Sri Muhyiddin Yassin in Putrajaya yesterday. Also present were Minister of Women, Family and Community Development Datuk Seri Rina Mohd Harun, PETRONAS President and Group Chief Executive Officer Tengku Muhammad Taufik as well as leaders from other contributing Government-Linked Companies and corporate entities.
According to Tengku Muhammad Taufik, "As a responsible corporate citizen, PETRONAS will continue to intensify its efforts in supporting those most vulnerable in society as they cope with the effects of COVID-19. In coordination with the Government and its agencies, it is my sincere hope that our contribution will meaningfully ease some of the burdens and provide assistance for the well-being of all Malaysians as we stand together in these extremely testing times."
With an allocation of RM50 million for the National Food Basket Programme, the Ministry of Women, Family and Community Development, through the National Welfare Foundation, will be providing essential items worth RM100 for each eligible household. This is one of the 22 initiatives under PERMAI which aims to safeguard the welfare of the people.
Since March 2020, PETRONAS has contributed a total of RM118.7 million worth of assistance towards COVID-19 relief efforts. This includes, amongst others, the contribution of digital devices and data connectivity worth RM30.6 million by its corporate social responsibility arm, Yayasan PETRONAS in partnership with the Ministry of Education and the Ministry of Finance for the CERDIK programme to improve digital access to education. The Company has also invested RM29.2 million in the Graduate Employability Enhancement Scheme to enhance the marketability of unemployed graduates in the country.
In supporting hospitals and medical frontliners, PETRONAS contributed approximately RM26 million to the Ministry of Health and the National Disaster Management Agency (NADMA). PETRONAS employees and subsidiaries have also donated RM6.4 million and RM18.3 million respectively in aiding various COVID-19 relief efforts.