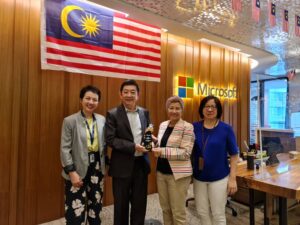 Kuala Lumpur, 20 September 2022 –  Iverson Associates Sdn Bhd, Malaysia's top IT training provider, has won the Microsoft's FY22 Superstars Award for APAC region.  
This award recognises leading Microsoft Learning Partners for their outstanding sales performances and continuous emphasis on growth and direct business. 
"We are truly honoured to be recognised for our work as the top Microsoft Learning Partner for the APAC Region.  We play a crucial role in the business ecosystem by transferring the latest technologies to government and business organisations to upgrade their IT skills and gain competitive advantage. Iverson will continue to champion continuous and accessible learning as we pave the path forward," said Dr Yap Chee Sing, Managing Director, Iverson Associates Sdn Bhd. 
He further shared that the award will serve as a motivating milestone not only for him but also the team that continues to build Iverson. 
"For FY22, Iverson has achieved a high double-digit annual growth rate and winning this award is a testament to all our hard work. But it does not end here as we look forward to proving ourselves again in FY23," he added. 
Commenting on Iverson's future plans, Dr Yap said with the solid foundations and track records built over 28 years, Iverson plans to continue expanding its product range and geographical reach to become a leading regional training provider. 
Currently, Iverson is working with several government agencies to upskill the Malaysian workforce. For example, Iverson is collaborating with HRD Corp on a program titled Skilling For Talent Readiness And Innovation In The Digital Era (STRIDE) to deliver actionable content and measurable outcomes, including improved work processes, increased worker competencies, and business efficiency.
Iverson is also collaborating with MDEC on the Digital Up programme to ensure that the current workforce will remain relevant, and encourage Malaysian workforce to reskill and upskill themselves in Digital Technology related courses and programs. 
Iverson provides a wide range of training courses, including data and AI, robotics, blockchain, cloud computing, cybersecurity, open source,  business productivity tools, IT service management and project management. Over the years, Iverson has won multiple awards from top IT vendors, including Microsoft, IBM, Red Hat, Citrix, Cloudera, etc. 
For more information, visit https://www.iverson.com.my/ or call 03-77262678 to book your next course today.