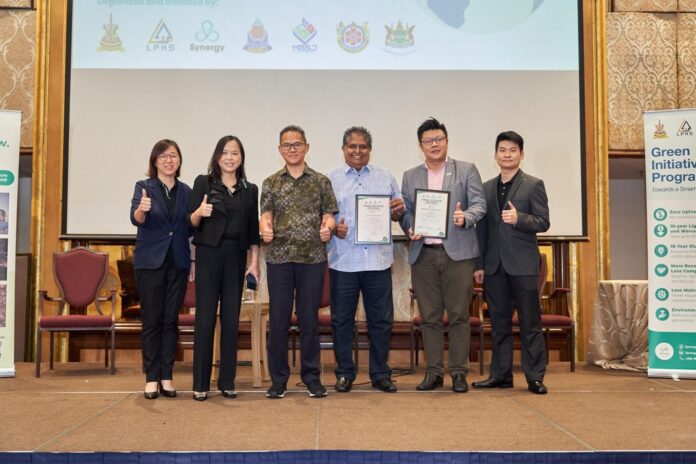 Kuala Lumpur, 25 October 2023 – In line with Selangor's 2025 Low Carbon Smart City Vision, Synergy ESCO is furthering its commitment to sustainable practices through the introduction of the "Light Source in Darkness" program. This initiative aims to help strata buildings in Selangor conserve energy and reduce carbon emissions by facilitating the installation of Synergy ESCO's energy-efficient LED lights at no upfront cost.
The Green Initiative Program symposium, a pivotal part of this event, where the Green Pioneer Recognition Awards were presented to Alex Mathew, the Building Manager at Geo Bukit Rimau, and Ken Teo, the Principal at Gather Building Management for 3 Elements for their exceptional contributions to promoting and implementing the Green Initiative program in Selangor.
Alex shared his first-hand experience and positive feedback about participating in the program.  "From my experiences of managing the building for the past 8 years, it was just unbelievable that we can further reduce our energy consumption with Synergy. So, to progress further, they came with the equipment to do the testing in our condo. From that, it was evident that we were using our 18 watts and 22 watts LED light, and we could actually bring it down to 5 watts, and the brightness was still maintained."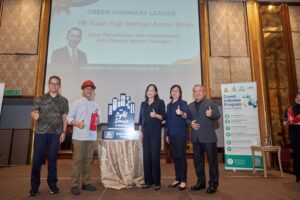 The newly appointed Selangor State Executive Councillor for Housing and Urban Wellbeing, YB Borhan Aman Shah emphasized the crucial role of collective efforts in achieving Selangor's vision for a sustainable future in his welcoming speech. He stated, "The State Government has set a goal to install 10% of LED lights across Selangor by December 2023. This goal can contribute to energy savings equivalent to preserving 1.3 million trees every year and reducing carbon dioxide emissions by 51 tons annually. These figures represent a significant contribution to mitigating the impact of climate change and can only be achieved with the commitment of Joint Management Bodies and Strata Properties Management Corporations across Selangor."
Synergy ESCO's LED lights are patented and durable, with a lifespan of up to 10 years and no maintenance required. They consume only 5 watts while delivering 210 lumens, as opposed to traditional LED lights that use 18 watts. This translates to energy savings of up to 80% compared to other LED lights on the market. Synergy ESCO's green technology contributes to lowering global temperatures and reducing CO2 emissions.
Initially focused on commercial buildings, Synergy ESCO now aims to extend the program to strata buildings, encompassing all 6,000 strata buildings in Selangor. Ally Tai, the Chief Operating Officer of Synergy ESCO, explains, "Our mission is to implement energy-saving protocols capable of saving 100 million trees over a decade. This mission aligns with our goal to benefit the community, as mentioned earlier by YB Tuan Haji Borhan Aman Shah."
The "Light Source in Darkness" program offers strata buildings in Selangor an opportunity to reduce energy consumption and associated costs without any upfront payment. By joining this initiative, participants not only make a significant impact on energy conservation but also contribute to a greener environment. This echoes the call to 'Go Green Now, No Plan B!' as there is no alternative plan for addressing environmental challenges and combating climate change, and the time for action is now.
Learn more about the program at https://synergy-group.com.my/green-initiative.html