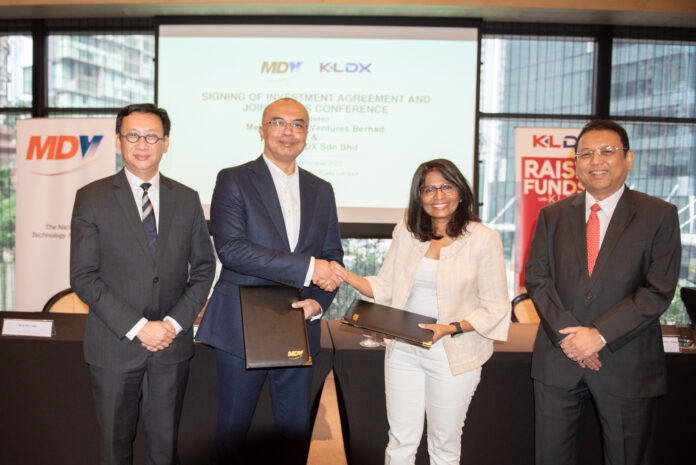 KUALA LUMPUR, 26 SEPTEMBER 2023: Malaysia Debt Ventures Berhad (MDV), a subsidiary of the Minister of Finance (Incorporated) [MOF (Inc)] and an agency under the purview of the  Ministry of Science, Technology and Innovation (MOSTI), together with Kapital DX Sdn Bhd  (KLDX) today signed an investment agreement for an undisclosed amount as part of KLDX's  fundraising efforts. The signing ceremony held at the RuMa Hotel & Residences was attended by MDV Chairman, YB Wong Chen; KLDX Chairman, Tan Sri Datuk Seri Nik Norzrul Thani; MDV  CEO, Nizam Mohamed Nadzri; and KLDX CEO, Selvarany Rasiah.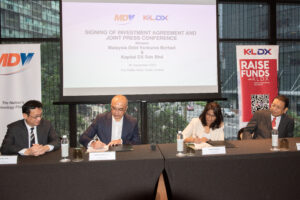 The investment signifies MDV's landmark venture into the Initial Exchange Offering (IEO) market and is consistent with the company's mandate to support the technology sector through innovative financing options. The investment is part of a collaboration to also diversify MDV's funding avenues and broaden its digital presence through participation in alternative financing platforms. 
Speaking at the signing ceremony, YB Wong Chen, Chairman of MDV said: "The signing of the  agreement with KLDX marks a pivotal step in MDV's ongoing efforts to champion innovation and  elevate Malaysia's digital economy, particularly the fintech financing ecosystem. MDV also intends  to leverage on the platform to finance tech projects related to the National Energy Transition  Roadmap (NETR), especially in the area of Renewable Energy and Energy Efficiency. The IEO  platform, bolstered by blockchain technology, introduces a new paradigm in fundraising as it offers a more efficient, cost-effective, and flexible form of fundraising for tech companies looking to scale  up their business and operations. This can potentially contribute to reducing reliance on traditional  financial institutions and government grants, fostering a more self-sufficient and resilient tech  ecosystem." 
He added that the platform will also facilitate fundraising of Venture Capital and Venture Debt funds  that will support development and growth of tech start-ups in Malaysia and the region, crucial to  the nation's vision of becoming a global tech innovation hub and strengthening its position on the  digital frontier. 
As the first IEO platform to be launched in Malaysia, KLDX introduces a new approach to asset  ownership through digital tokens. This innovation opens up a myriad of fundraising and investment  avenues, allowing digital tokens to represent a diverse array of asset classes and providing an  alternative to traditional markets. The platform aims to provide investors seeking diversified, high growth investments, better access to the private market assets that are otherwise limited to  institutional or high net worth investors. The platform also assists companies to realise their growth  potential through a secure and efficient fundraising source that empowers issuers to raise up to  RM100.0 million annually – a substantially larger issuance size compared to ECF and P2P.
Tan Sri Datuk Seri Nik Norzrul Thani, Chairman of KLDX said: "We are pleased to welcome a highly experienced and reputable tech financier in MDV as KLDX's strategic investor and  collaborator. Opportunities to collaborate with MDV in various capacities by leveraging the IEO  platform also aligns perfectly with MDV and KLDX's mission to transform the fundraising landscape for young companies that often face difficulty in securing funding from traditional financing sources and who would benefit from alternative financing sources. We are optimistic that this collaboration  would help in addressing existing funding gaps and in fostering a conducive financing environment  for companies, including technology companies and start-ups, to thrive. For investors we bring  financial inclusion by enabling access to private market assets which are typically higher yielding  and largely inaccessible to them presently. In this respect, we extend our appreciation to the  Securities Commission Malaysia for its forward-thinking regulatory policies that allowed the  establishment of the IEO platform." 
Selvarany Rasiah, Founder & CEO of KLDX, expressed her enthusiasm on the collaboration  with MDV: "We are excited to work together with MDV and see it as a significant move towards making funding and investment opportunities more accessible in the tech and sustainability  sectors. We believe that this partnership will not only provide funding opportunities but also enable  transformative growth in Malaysia's tech and sustainability sectors in keeping with Malaysia's  digital economy as well as transition to low carbon economy. Our fundraising processes align  seamlessly with Malaysia's visionary aspirations for a vibrant and dynamic digital economy. We  stand at the intersection of innovation and finance, embodying the spirit of Malaysia's forward thinking approach to economic growth in the digital age. KLDX is proud to offer a secure platform  for private market investments, aiming to level the playing field for both investors and  entrepreneurs."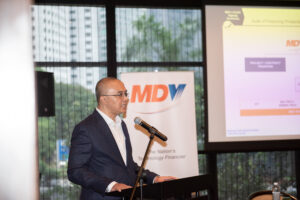 Nizam Mohamed Nadzri, CEO of MDV explains that as part of the agreement, MDV and KLDX  intend to engage in several areas of collaboration with KLDX, including undertaking fundraising for  projects identified by MDV that require substantial funding that can be syndicated on the KLDX  platform; joint investments in projects originated on the KLDX platform that meet MDV's financing  criteria; developing innovative products for fundraising on the KLDX Platform; and the provision of  services relating to fundraising activities on the KLDX Platform such as due diligence and  monitoring. Additionally, in order to continue growing its Venture Debt financing portfolio, MDV is  planning to raise funds on the KLDX Platform by establishing the first venture debt fund to be listed  on an IEO platform.  
"This collaboration is a significant stride towards fostering a robust digital economy in Malaysia. It  allows the Company to explore new horizons in fundraising, providing MDV with expanded  opportunities to grow our portfolio and continue our support for technology companies, particularly  Green Economy companies, SMEs and start-ups, in a sustainable manner. I am confident that this  synergy between MDV and KLDX will drive innovation, foster economic growth, and further solidify  our commitment to nurturing the technology sector in Malaysia," concluded Nizam. 
In line with the Government's Madani aspirations, with a shared vision and combined expertise,  MDV and KLDX are set to usher in a new era of fundraising, one that promises to be more inclusive,  efficient, and attuned to the evolving needs of the wider economy and tech industry in Malaysia.